Wikoryl tablet is one of the most commonly used for fever and cold in adults. Viral cold episodes are very much common in adults as well at such infection we can make use of wikoryl tablet. So lets understand important facts about the tablet.
What is wikoryl tablet ?
This is one of the anti cold tablet which is used for viral upper respiratory tract infection. It is manufactured by alembic pharmaceutical pvt ltd.
What are contents of wikoryl tablet ?
Each tablet contains 5 mg phenylephrine hydrochloride, 2 mg chlorpheniramine maleate and 500 mg paracetamol. The tablet is to be stored temperature below 30 degree Celsius. Tablet should be kept away from the reach of the children.
Wikoryl 325 DT Tablet
Each tablet contains 5 mg phenylephrine hydrochloride, 2 mg chlorpheniramine maleate and 325 mg paracetamol. It is used in children. As it is as dispersible tablet it can be given along with water.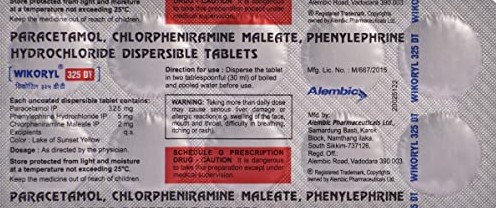 How to take wikoryl tablet ?
Wikoryl tablet is to be swallowed with water with or without food. Do not crush the tablet as its effectiveness decreases. When the tablet is swallowed, it is extended release tablet so it will show its action for the long time. It is always advised that tablet is to be taken on the advise of the doctor.
What is the action of wikoryl tablet ?
As there are three contents in the tablet so we will see the wikoryl tablet uses according to its content.
Tablet contains paracetamol which acts as antipyretic means it help in reducing fever of the patient. It also acts as analgesic so it helps to reduce bodyache and headache associated with the cold.
Phenylephrine acts as decongestant which helps to relieve congestion of the nose as well as reduce the sinus congestion.
Chlorpheniramine maleate act as anti allergen which reduces inflammation over the nasal mucosa.
What are wikoryl tablet uses ?
The tablet uses are as following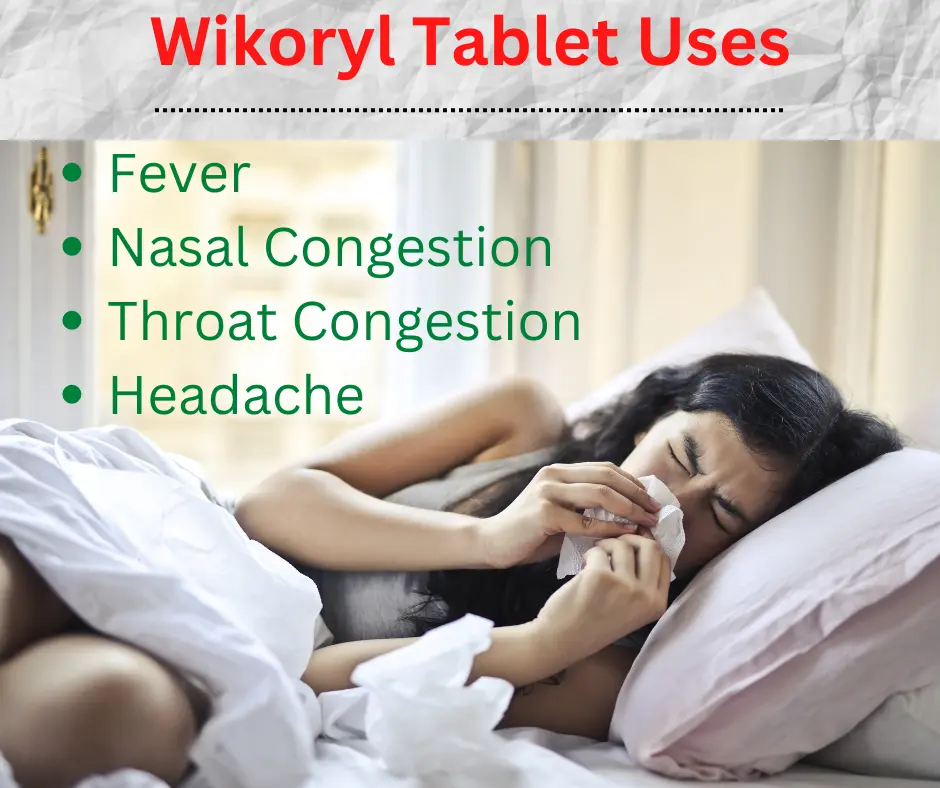 Cold – Most of the time cold is a viral infection in which wikoryl tablet helps to reduce the nasal congestion. Cold is caused by rhinoviruses. In cold, there is excessive watery secretions from the sinuses but later it become infected so we can see mucous secretions coming out from the nose.
Throat congestion – Phenylephrine component of tablet helps to reduce the congestion from the throat, so helps to reduce the cough. Secretions from the nose gets trapped in the throat responsible for throat congestion.
Fever – Wikoryl tablet contains paracetamol in it which is antipyretic so it helps to control fever associated with cold. When secretions of cold become infected, patient may suffer from fever.
Headache – Mostly patient suffering from cold has headache due to sinus congestion. So wikoryl tablet helps to reduce the headache related with cold.
What precautions to take?
Pregnancy – It is better to take wikoryl tablet on advice of your physician when you are pregnant as it contains drug which acts as sedative.
Breast feeding – Tablet can be taken when you are breast feeding your baby but always try to consult your pediatrician
Alcohol – It is not adviced to take the wikoryl tablet after consumption of the alcohol. As alcohol is already sedative and Tablet also contain sedative agents so it is better to avoid tablet with alcohol.
Driving – wikoryl contains sedative agent so it is not preferable to drive a vehicle after taking tablet.
Kidney and liver disease – If you are suffering from major kidney or liver disease then it is always better to consult your doctor before taking tablet as doctor may adjust dose of the tablet according to your disease condition.
Side effects of wikoryl Tablet
Every drug has some ill effects but those are not same in each patient. So side effects are as follows
Nausea
vomiting
drowsiness
sleepiness
headache
allergic reaction
If after taking tablet, you suffer from allergic reaction then avoid to take tablet.
It is not habit forming drug.
Special tips
In cold, you can drink lukewarm water which helps to loose the mucous secretions from the throat.
In adults, hot water vapours are very useful to loose out secretions from the nose. You can take it twice a day. It helps to control symptoms of cold early.
Drink lot of water so that your body will be hydrated always. So you will not suffer from dehydration.
If you has fever, do not cover body with lot of clothes as it will not decrease the body temperature. It is always beneficial to wear loose clothes.
Hand washing is very much important as it removes germs present over hands. So source of infection is reduced.
In winter, it is very much essential to wear wool clothes and cover your ears with cap.
You can make use of nasomist nasal drop along with tablet as it helps to relieve congestion of the nose. It should be used specially in children.
Frequently asked questions
Can we take sinarest and wikoryl tablet together ?
The content of sinarest and wikoryl tablet are same. So you must take only one tablet. Otherwise if you take both tablets it will responsible for side effects of tablet.
Does i need to take other medicine for fever after taking wikoryl tablet ?
Wikoryl tablet contains paracetamol which is responsible for reduction of fever. So you should not have to take other tablet for fever immediately.
What is dose of wikoryl tablet one should take ?
If your weight is more than 30 kg, you can take 1 whole tablet. If your weight is between 15kg to 25 kg, it is better to take half tablet.
Can we give wikoryl tablet to the children ?
We can give wikoryl tablet to the children whose weight is more than 15 kg but your child should swallow it. If weight is more than 15 kg then you can give half tablet. You can give 325 DT tablet for children.
Disclaimer – The above content is for informational purpose only. The content is reviewed by doctor still you must consult your doctor before taking any medicine. Each patient is different and has different history, so doctors advice is always preferable. If you have any quary about the topic you can contact us.
Ref – Netmeds