Gumeez gel is one of the useful gel to be used while eruption of teeth in the infants.. Most of the time parents are concern about the eruption of teeth and excessive crying during eruption of teeth. So at such time gumeez is one of the best gel to use. So lets understand information regarding gumeez gel.
What is gumeez gel ?
Gumeez gel is one of the pain relieving gel for pain in the gums of the infant during teething. Gumeez gel is manufactured by Astrum Healthcare Pvt Ltd.
What are signs of teething in infants ?
Teething in infants starts from 4-5 month of age. So parents must have to know some signs of teething in infants. The signs of teething are as follow.
Excessive Salivation – When your baby starts excessive drolling from side of their mouth then it is the time of teething in infants.
Biting – Sometimes baby try to bite whatever comes in his/her hand. So you must recognise that baby is suffering from some pain in gums thats why baby starts biting anything.
Refuse to eat – As baby is suffering from gum pain, baby does not eat anything.
Irritable and Excessive crying – Due to uncomfort of the gum pain, baby become irritable and cry at any time during the day. Some babies may suffer from mild grade fever at the time of eruption of teeth.
What are the contents of gumeez gel?
Gumeez gel is one of the ayurvedic preparation which contains Honey, Fennel oil, Pudina oil, Clove Oil. Gumeez is available in 30 gm of tube.
Honey – Honey is one of the best ingredient which acts as antibacterial and antifungal. It removes unwanted bacteria and fungi from oral mucosa. It also provide soothing effect over the oral mucosa. Honey is helpful for preventing apthous ulcer.
Fennel Oil – Fennel oil acts as healing agent while eruption of teeth from the gum. It also contains antioxidants and antimicrobials so it helps in boosting immune power of the baby.
Pudina oil – Pudina oil means Peepermint oil helps in reducing the pain during eruption of teeth. It also helpful for reducing itching and kills unwanted germs.
Clove Oil – Clove oil provides a soothing effect over the gum and decreases pain.
All the contents of the gumeez are ayurvedic so it is one of the safe gel which we can use in infants while teething.
How to apply gumeez gel to gums ?
First you must have to wash your hands with the help of soap and water. Take 2-3 drops of gumeez gel over fingertip of your index finger and gently apply it over gum of your baby who is suffering from pain during teething and excessive salivation.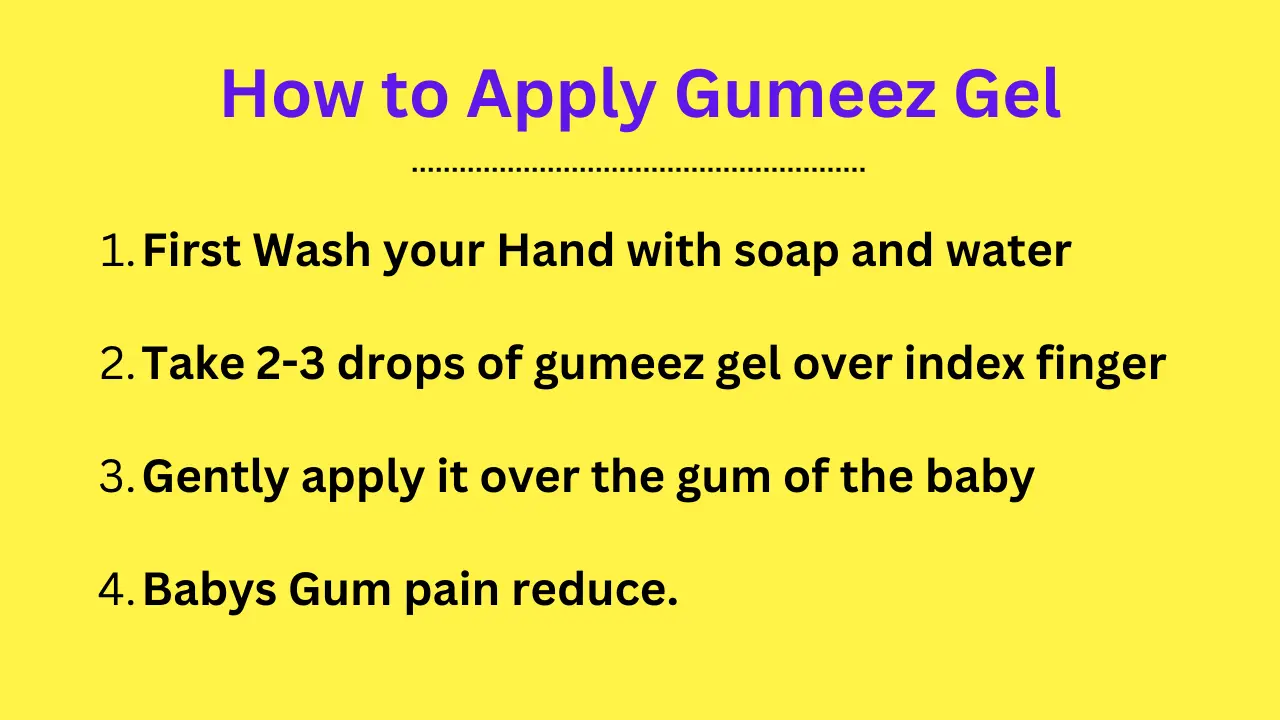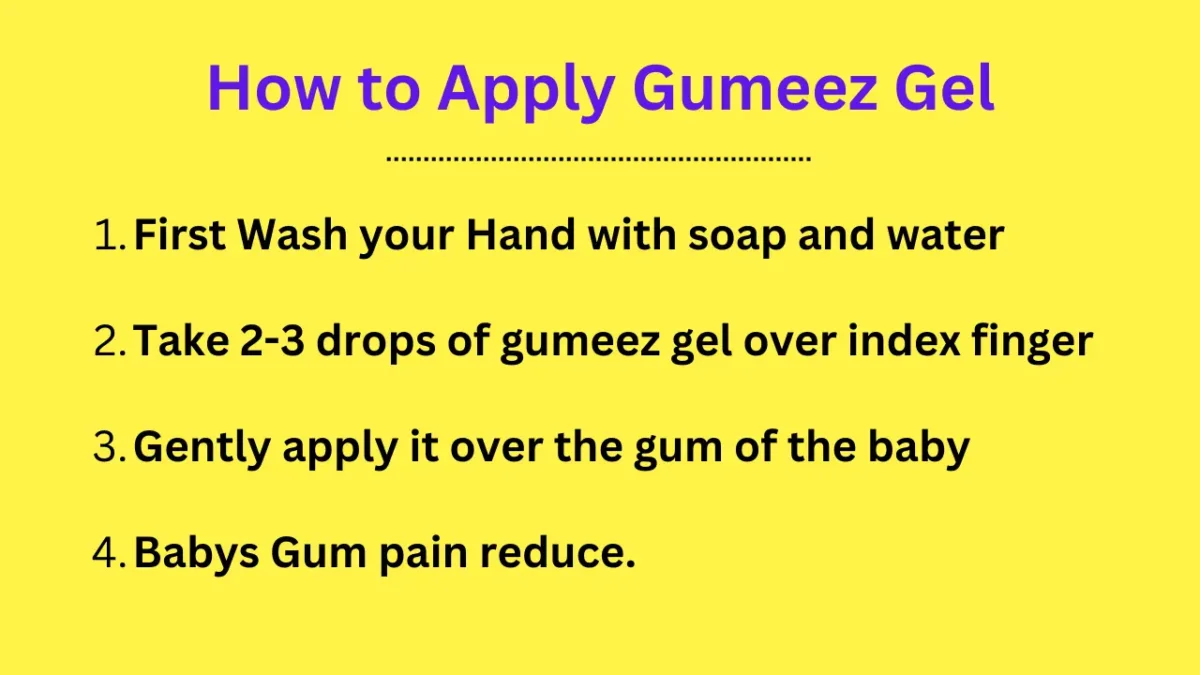 If your baby swallow it, then do not worry it is not harmful for your baby as it is one of the ayurvedic prepration. You should keep the gel over gum for at least 10-15 minutes. You can apply gel for 2-3 times a day for 2-3 days. After that whenever your baby has symptoms, you can apply gel.
What are side effects of gumeez gel ?
As gumeez gel is one of the ayurvedic gel so it does not have any side effects. If your baby have allergy to any ingredient of the gel then it is better to avoid using gel for your baby. Do not use gumeez gel in infants less than 4 month of age.
What are the uses of the gumeez gel ?
Main use of the gumeez gel is for teething pain relief in the infants. Most of the time at the age of 4-5 months when teething is going to start in infants, due to pain they cry a lot. Also there is excessive salivation at the time of eruption of teeth.
Gumeez gel helps to reduce salivation and pain relief in children.
Always use gumeez gel only after consultation with your doctor.
Ref – Healthline