Cyclopam tablet is one of the most commonly prescribed tablet by the doctors. Cyclopam is most commonly used for abdominal pain. Lets understand facts about the cyclopam.
What is a cyclopam tablet?
Cyclopam is one of the antispasmodic tablet which is used for the abdominal colic. It is produced by Indoco Remedies ltd
What are the contents of the cyclopam tablet?
The Cyclopam contains two contents. It contains 20 mg dicyclomine and 500 mg paracetamol in each tablet.
What is the action of a cyclopam tablet ?
Cyclopam contain Dicyclomine and Paracetamol.
Dicyclomine acts as an antispasmodic agent which helps in reducing the spasm in intestinal smooth muscles.
Paracetamol acts as antipyretic means it helps to reduce the fever and analgesic means it acts to reduce the pain.
What are the cyclopam tablet uses?
Cyclopam is used for the following reason.
Abdominal Pain – If you are suffering from abdominal colic pain then cyclopam tablet help in reducing the abdominal pain by relaxing the smooth muscles of the intestine.
Fever with abdominal pain – As cyclopam contain paracetamol, it acts as antipyretic so helps in reducing the fever as well as it also helps to reduce the abdominal pain due to its analgesic effect.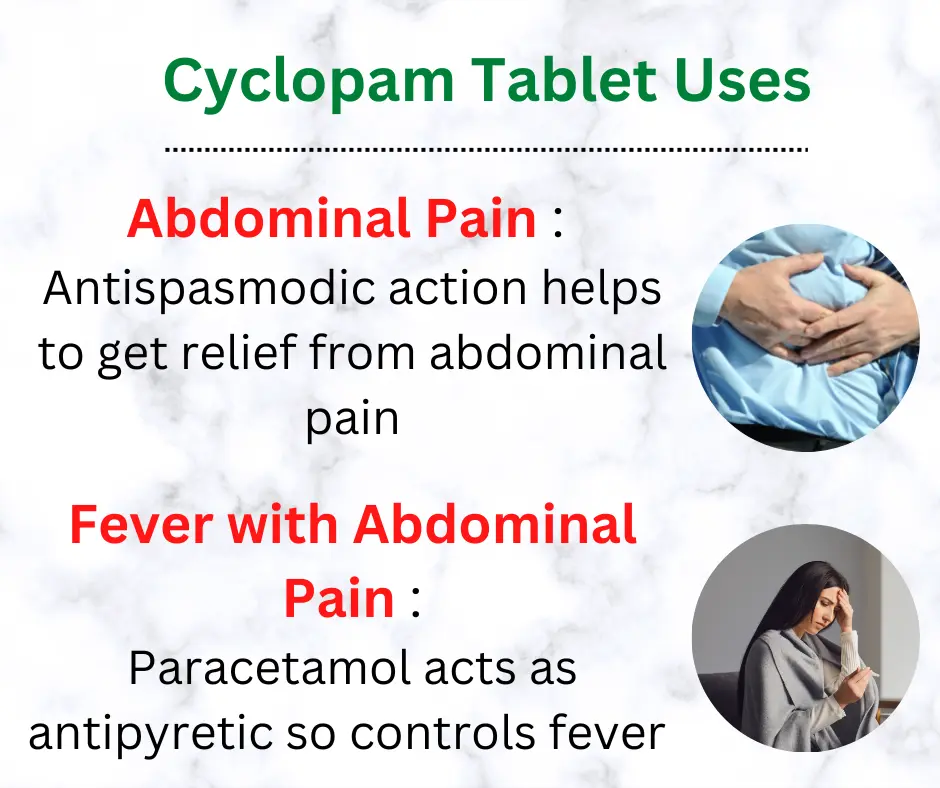 How to take a cyclopam tablet?
Cyclopam tablet must be taken on the advice of your doctor.
Cyclopam is stored at temperatures below 30 degree Celsius or at proper room temperature.
It is always better to take the tablet after 15-30 minutes of food or with milk or water as it contains paracetamol which is an anti-inflammatory drug which is responsible for gastritis. So if you take the tablet on an empty stomach it will aggravate acidity.
You have to swallow the whole tablet.
Do not chew the tablet as it will not be more effective.
What is the dose of the cyclopam tablet ?
Always take a cyclopam on the advice of the doctor. It is an adult tablet so one can take the tablet twice a day as per his/her symptoms. If you are suffering from any allergic reaction after taking the tablet, immediately contact your doctor and try to avoid taking the tablet later.
If you are between 2-12 years of age then you can take ½ tablet and if your age is more than 12 years of age then you can take 1 tablet.
What are side effects of cyclopam tablet ?
Most of the side effects of the tablet are mild. These are as following
Constipation – Dicyclomine is the drug which is an anticholinergic drug so it is responsible for slow peristalsis movement in the intestine so ultimately to the constipation.
Gastritis – Paracetamol drug in the tablet is responsible for the gastritis if the tablet is taken on an empty stomach.
If you found any of the side effects after taking the tablet, you should contact your doctor immediately if they are severe.
What precaution to take while taking a cyclopam tablet ?
During Pregnancy – Take advice from your doctor but it is better to avoid taking tablet.
During breastfeeding – It is better to take a tablet as it may pass in breast milk.
Alcohol consumption – Avoid consumption of alcohol with the cyclopam tablet.
During Driving – This tablet does not have any sedative action so you take the tablet safely.
Liver disease – If you are suffering from liver disease, you must consult your doctor for the dose of the tablet.
Kidney disease – Dose of the tablet is to be adjusted according to the stage of your renal disease.
Cyclopam MF Tablet
Cyclopam MF tablet contains 10 mg dicyclomine and 250 mg mefenamic acid. Cyclopam MF tablet is used for period related pain. It is similar like Meftal spas tablet. This tablet is to be taken after food or with milk. The side effects of Cyclopam MF tablet are similar as of Cyclopam tablet.
Cyclopam syrup for children
Cyclopam syrup is used for treatment of flatulence in the children as well as abdominal pain.
Cyclopam contains 10 mg dicyclomine and 40 mg simethicone.

Dicyclomine acts on the smooth muscle of the intestine so it reduces spasm. So it is used in colic pain in the abdomen.
Simethicone act for reduction of gas in infants as it breaks the bubble of gas present in the intestine of the baby. So it reduces the abdominal colic pain in the baby.
You should not use cyclopam syrup in infants less than 6 month of age. Most of the time baby cry at night due to gaseous distension, so at such time you can use cyclopam drop which also contains 10 mg dicyclomine and 40 mg simethicone. You can give 0.5ml dose twice a day if your baby has colic problem.
The dose of the syrup between 6 month to 2 years of age is 2.5 ml twice a day while above 2 years to 5 years of age is 5 ml twice a day.
Always shake the bottle before use.
Cyclopam syrup is provided with a measuring cap so that you can give the proper dose to your child as prescribed by your doctor. Always consult your pediatrician before starting syrup to your child.
Frequently Asked Questions
Can we use cyclopam syrup for fever ?
No. It does not contain any antipyretic drug so we can not use cyclopam syrup for fever in children.
Does cyclopam tablet cause infertility?
No. Cyclopam does not cause infertility as it does not contain any drug which is responsible for infertility.
Can we take cyclopam and pacimol together ?
Cyclopam contain paracetamol and pacimol tablet also contain paracetamol so you should not take cyclopam tablet with pacimol tablet.
Can we use an open bottle of cyclopam syrup later ?
We can use cyclopam syrup upto the expiry date mentioned on the bottle.
Can we take cyclopam and carmicide together ?
No. Cyclopam and carmicide both syrup contains the same content that is simethicone so you should avoid taking both syrup together.
Is cyclopam safe in appendicitis ?
You should avoid cyclopam if you are suffering from appendicitis. Always consult your doctor if you have a problem of appendicitis.
Can tab Cyclopam use in dengue for pain in ABD?
Cyclopam can be used for abdominal pain in dengue fever for getting relief from spasm of intestinal smooth muscles.
Ref – Pharmeasy